Where Eagles Dare and Patriots Fade
6 Feb 2018

I missed a high-scoring Super Bowl that looked entertaining from start to finish. It could mark the end of an era, though.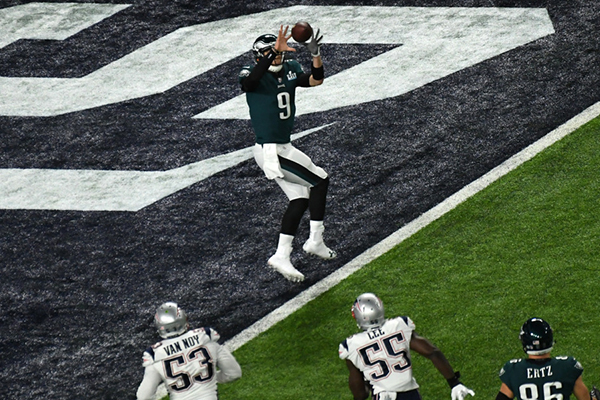 I watched the highlights on YouTube soon after the game ended. It was definitely a track meet because the game was played in the Vikings' new stadium. Playing indoors and on artificial grass benefitted the offenses, but they still had to be good, and they were. The Eagles didn't have marquee names like the Patriots had Tom Brady and Rob Gronkowski, but Philadelphia had a lot of reliable players at the skill positions.
Zach Ertz, Alshon Jeffery, and even Nick Foles are built like NBA guards. All three caught touchdown passes, and the one by Foles was the standout play because it involved trickery and risk. Having tall and athletic pass-catchers is one thing, but having the guts to "go for it" throughout the game against the widely favored champs is something else. The Foles touchdown play was among a few risky calls by Doug Pederson.
As for Brady, his legacy is as lofty and vulnerable as ever. On the one hand, he passed for 505 yards and 3 touchdowns with no interceptions. His Hail Mary pass at the end of the game was catchable, too. On the other hand, his lost fumble from a strip sack basically ended any comeback. Like the Giants, the Eagles matched quicker defensive ends against Brady's interior linemen to create pressure in front of him to exploit his lack of lateral agility.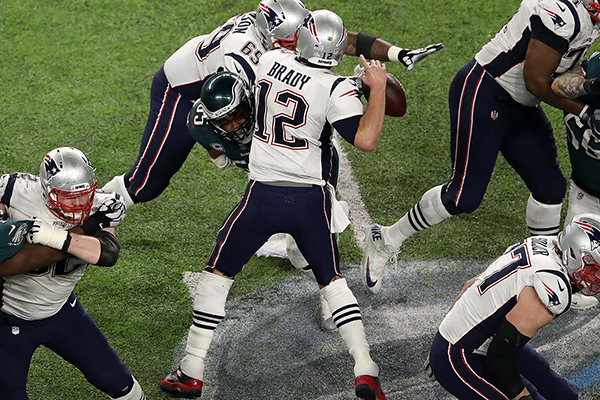 Brady is now 5-3 in Super Bowl games, and those wins have each been decided by 6 points or less. He's still probably the NFL's GOAT quarterback, but he's never really been dominant despite playing in Super Bowls, on average, every two years. Even if speculation about Belichik's resentment and Gronkowski's retirement prove to be false, Brady will be 41 next season.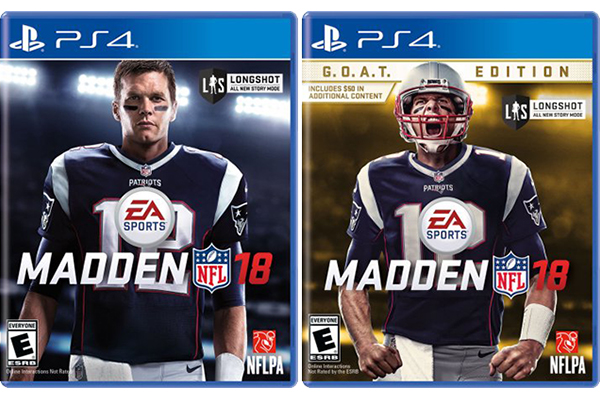 Super Bowl XXXIX was the previous Patriots-Eagles Super Bowl. I remember that 2004-2005 season because of NFL 2K5, which has Terrell Owens in a Philadelphia uniform on the cover. I played that game like a madman. I even made a player database, which included Pederson in his final season as a player. Thirteen years is two lifetimes in the football world, and yet Brady has been going strong for 17 years.
The fortunes of a player or a team can dramatically change in a few years and even in a few months. Around this time in 2015, Foles seemed like a one-year wonder. Before this season, he looked like a career journeyman. He even considered retirement before he returned to the Eagles, who had drafted Carson Wentz in 2016. In December, Philadelphia's playoff hopes seemed lost when their star quarterback was injured.
Now in February, Foles is the most the recent Super Bowl MVP because of his epic performance. The Eagles have, in Foles, an enviable backup quarterback and/or valuable trade piece. Brady and the Patriots, by contrast, might be at a crossroads. They could avenge their latest Super Bowl defeat in a year or two, or they might implode because of internal discord, physical injury, and/or old age.
If the Eagles are Rocky Balboa, then the Patriots are Apollo Creed. Brady, Belichick, and company have enjoyed dominance that makes them admirable and dislikable at the same time. Their impressive run is coming to an end, and even though I don't want them to finish in triumph, I don't want them to go down in tragedy like Apollo, either.