NFL 2K5
21 Jul 2015

This game is worth remembering because of its excellent presentation and cool innovations that hold up after all these years. A fateful business deal by its competitor means that NFL 2K5 is the last of its series.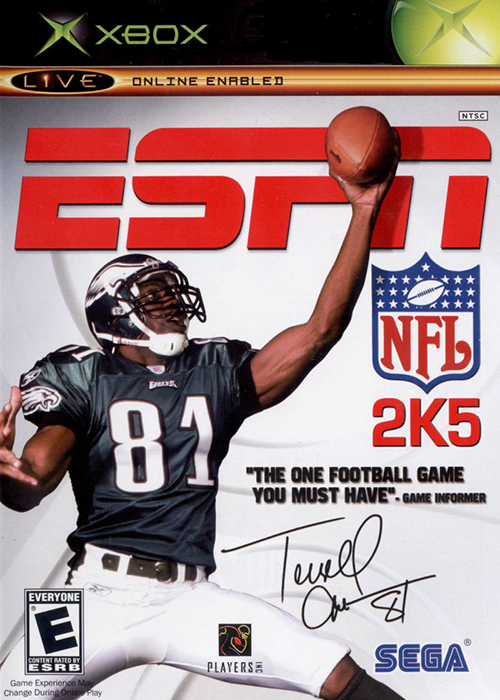 Eleven years and one day after its release on July 20, 2004, ESPN NFL 2K5 is a noteworthy sports video game. Some of its features—like dynamic halftime shows, customizable imported soundtracks, and simulated user profiles—are still unique because most newer sports games don't have them. It also marks a turning point in the gaming industry, for better or worse.
I spent around 1000 hours playing this game on the Xbox, from its release in the summer of 2004 to my 'retirement' in the fall of 2006. I bought a copy at launch and another copy a few weeks later, after my first disc was scratched beyond use. I eventually had it repaired, but I didn't mind re-buying the game partly because the MSRP / RRP was only $20 compared to the standard $60. From a marketing view, the budget price-tag was a savvy move by 2K.
Gamers who only ever played the Madden games suddenly made the leap and bought NFL 2K5, which was released before its more popular competitor. I enjoyed ESPN NFL Football when I made the switch a year earlier, so I was glad that more people were playing my preferred series. EA countered by reducing the RRP of Madden 2005 to $30 and then secured an exclusive licensing deal with the NFL and NFLPA, basically ending the NFL 2K series.
Like other fans, I was disappointed when EA ended competition among NFL video games by reaching into its deep pockets. I was also disappointed when EA did the same thing for NCAA football video games. 2K later developed and published All-Pro Football 2K8, a football game with fictional teams and legendary players, but its sales did not warrant any kind of franchise. Naturally, the NFL renewed its deal with EA a couple of years ago.
I was obsessed with football at all levels (high school, collegiate, and professional) when NFL 2K5 was released. I'm athletic, but I weigh like 120 pounds, so this type of game is the only way that I can act out my gridiron fantasies. I loved winning countless Super Bowls with my Denver Broncos franchise while a song from my carefully assembled soundtracks played from the in-game stadium speakers.
I bought, and spent a lot of time playing, NCAA Football 10, NCAA Football 11, and NCAA Football 14 on the PlayStation 3; I got the platinum trophies for all three games. I even bought Madden 10, although I traded it for LittleBigPlanet within a couple weeks. I haven't really owned any NFL video game since NFL 2K5 and I might not buy one for quite a while.