Dawn of a new era in soccer
16 Jun 2023

The soccer world has had some recent changes that have been arguably inevitable, but they're still noteworthy.
Messi & Ronaldo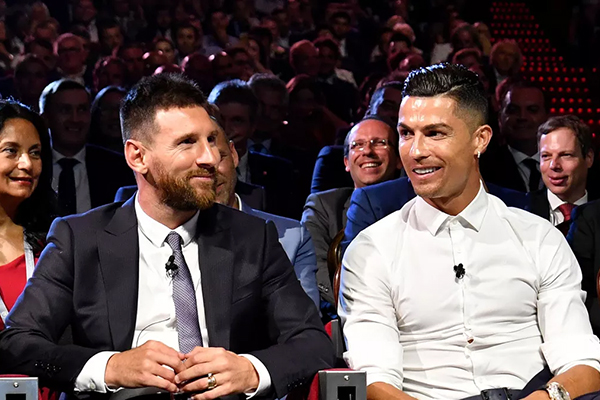 The two best players of the past 15 years have now, in effect, retired. Lionel Messi and Cristiano Ronaldo are among the GOATs, and I don't know of any other pair of athletes who've dominated their sport as much and as long as they have. Their exits from the top level of club soccer haven't been storybook-endings, especially for Ronaldo, but they'll still earn lots of money and draw lots of fans in North America and Saudi Arabia, respectively.
Both still compete for their national teams, but I doubt that either of them will be at the next World Cup. The possibility of them playing against—or finally, alongside—each other in any meaningful game is unlikely, but I hope they retire at or around the same time. Even to a casual fan, their true retirements will close a memorable chapter volume in the history of the game. This volume is a few chapters closer to its end with Messi joining Inter Miami.
Despite their changed looks, diminished skills, and new kits, I still think of a mop-topped Messi scuttling in midfield as no 10 for Barcelona and a lean Ronaldo doing step-overs as no 7 for Manchester United.
Pep & City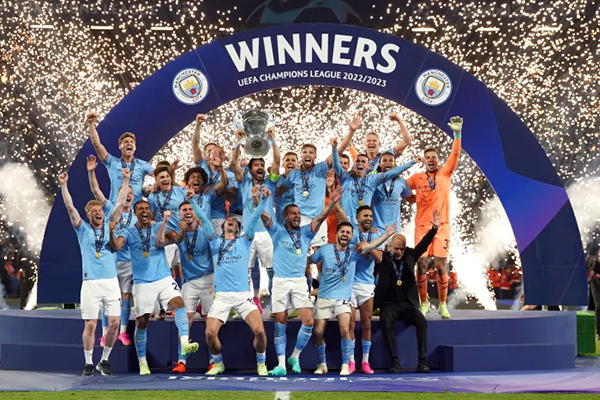 Pep Guardiola and Manchester City have finally won the Champions League. Until now, there'd been reasonable doubt whether they would ever win the biggest competition in club soccer. A popular narrative had been that a prime Messi is responsible for Guardiola's prior Champions League titles, with Barcelona, in 2009 and 2011. Despite perennial success in the English Premier League, he and his Man City teams had never bested the top clubs of Europe.
The addition of phenom striker Erling Halaand has been important to their breakthrough. He hadn't scored in the Champions League final, but he has set a goal-scoring record during this season in which Man City has also won the Premier League and the FA Cup. A club winning the Champions League plus its country's top league and top tournament is rare. The previous English club to win the treble is Man United, led by a prime Ronaldo, in 2008.
Amazingly, Man City had been competing in England's third-tier league during that season. Man United had soon won three more Premier League titles, but over the past decade, their best results have been three runner-up finishes behind Man City, which now has six of the past 10 Premier League titles. This reversal of fortunes oil-rich parties buying the latter, but as Chelsea has shown this season, big coffers and free spending doesn't guarantee success.
EA & FIFA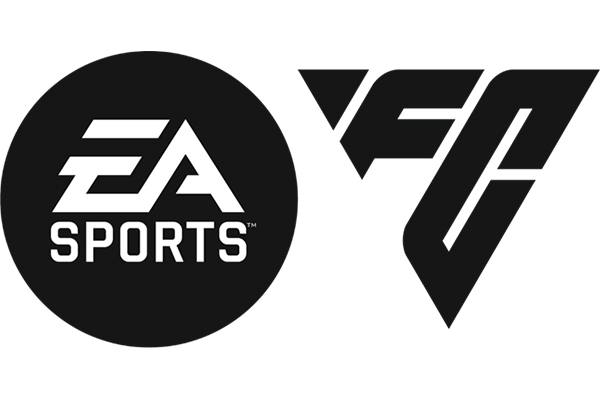 The FIFA series of video games is now a relic. The next iteration in EA's long-running and lucrative franchise will be EA Sports FC because the company and FIFA can't agree to terms about the FIFA license. EA can, and almost certainly does, have separate licensing agreements with clubs and players. Thus, the title of a soccer-game franchise being different because of licensing isn't as impactful as with a football-game franchise.
This change in the landscape of soccer gaming might be beneficial for consumers. FIFA and other parties might develop and publish games to compete with EA's games. I might buy FIFA 23 for posterity, if nothing else, but I don't want to fall into the time-suck of developing Chelsea into a club that dominates England and Europe, which they can't do in real life. I wouldn't be surprised if EA regains the FIFA license again some time in the future, though.
One thing that can't return is the commentary of John Motson, who has recently died. I remember him as the voice of FIFA World Cup 98 and other FIFA games of the late 90s. Clyde Tyldesley has probably voiced more iterations of FIFA at this point, but I have nostalgia for the Motson era. The cynical part of me expects EA or FIFA to release paid DLC consisting of AI-generated commentary that's based on his voice.