Making New England great again
6 Feb 2017

The Belichick-Brady era Patriots have won their fifth Super Bowl in a 15-year span.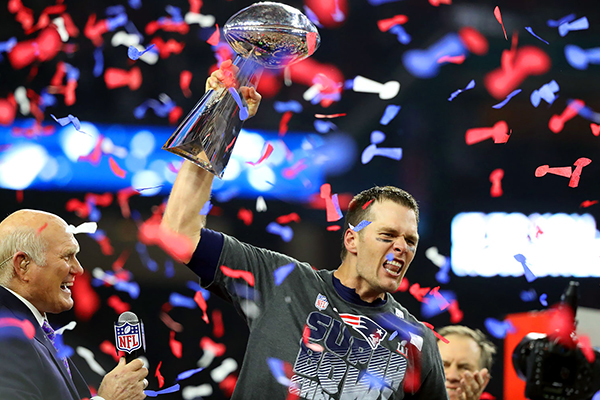 I've never liked the Belichick-Brady-Kraft cabal. Peyton Manning is my all-time favorite player, and despite the Broncos carrying him off into the sunset last year, Super Bowl XLII is my all-time favorite Super Bowl. Seeing the Patriots lose to the Giants 17-14 made me happy inside. It was better because the Patriots failed in their quest for a 19-0 season and because Brady would've laughed if you somehow knew the final score beforehand and told him.
On the other hand, I've always respected the Patriots under Belichick and Brady. Their 25-point comeback last night, starting at the end of the third quarter, was surprising and not surprising at the same time. I suspected that the Patriots would eventually tie the score when they had to convert their first two-point attempt. The Falcons didn't help their cause with pass-happy playcalling and game-clock mismanagement, though.
Fifteen years ago, Belichick and Brady won their first Super Bowl. Except for its followup, every Super Bowl since Super Bowl XXXVI has been played in February. The Patriots have, on average, been playing in these Super Bowls every other year and have won it every three years. I didn't follow the NFL that season when they won their first Super Bowl, and I assumed that Brady and the Patriots were a fluke when I read a preview for the next season.
Coincidentally, their first and most recent Super Bowl appearances have been against opponents with vaunted offenses and in domes. Both games have both been set against the backdrop of a world-changing historical and political event from the preceding fall. The moods of the Super Bowls immediately following the September 11 attacks and the 2016 presidential election have been different, but the outcomes have been the same.
Anyway, I want this Super Bowl win to be the final one for Belichick and Brady, partly because it would be a poetic end, and mostly because, as I've mentioned, I don't like the Patriots.