Mad Men episode 708 – "Severance"
12 Apr 2015

The first episode of the second half of the final season has Don, Peggy, Joan, and Ken revisit their past selves in one way or another.
Watching "Severance" (708) is like being at a reunion. You see most of the people whom you expect, you see others whom you don't expect, and everybody seems to re-open old wounds.
Same Old Things
Ken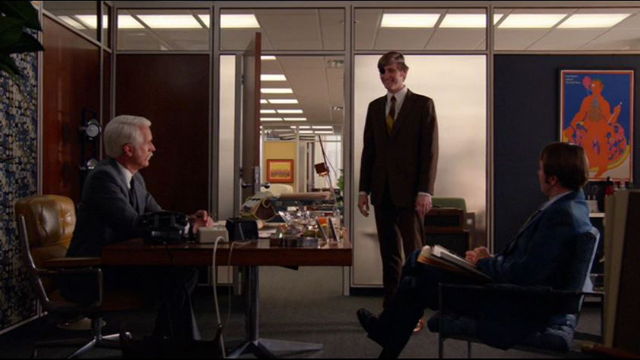 Ken's passion for writing and disdain for McCann re-emerge. The former has been introduced in "5G" (105) and established in "The Gold Violin" (207) and "Signal 30" (505). In "The Rejected" (404), Ken tells Pete that McCann is "the worst agency ever," among other things, and in "Chinese Wall" (411), Ken mentions to another exectuive that he'd only been there for six months.
The retirement of his father-in-law Ed Baxter apparently makes Ken expendable to SC&P, at least in the minds of their McCann overlords. Despite his wife's plea, Ken chooses workplace revenge over creative ambition when he takes a vacant job at Dow Chemical. It's fitting that he tells Roger and Pete because in "Signal 30," Roger pressures Ken to abandon his second career after Pete apparently tells Roger about it.
Joan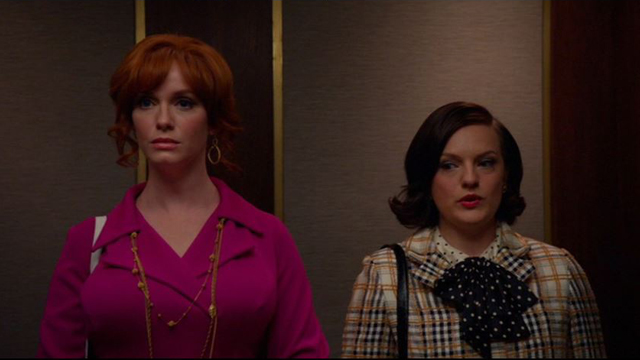 Joan has always been the matriarch of the office, but she's always longed for relevance as a strategist and, more importantly, respect as a businesswoman. She's had a glimpse of it with TV programming in "A Night to Remember" (208) and she's consulted with a business professor in "Time Zones" (701). Despite her newly-gained wealth and involvement, Joan is subject to sexual harassment from McCann executives.
Like in "The Summer Man" (408), Peggy tries to make Joan feel better when they're alone in an elevator, but Joan bluntly says that her struggle is never-ending. To make her feel even more like a "meaningless secretary," Joan is shopping at an upscale department store when a saleswoman recognizes Joan as being a former employee, which Pete can confirm from his visit in "Souvenir" (308). Joan denies her work history at the store.
Peggy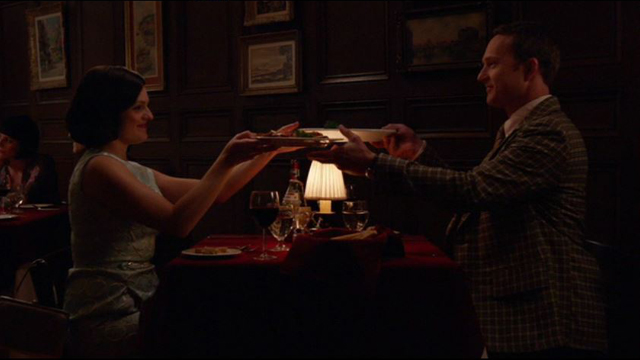 Peggy is hesitant to join Mathis and his wife for a double-date and his brother-in-law; she lists her objections to a blind date, especially a blind date with a subordinate's family member. Peggy has had bad experiences with such dates, like with one set up by her mother in "Indian Summer" (111) and the one set up by Joyce in "The Beautiful Girls" (409). As in "Maidenform" (206), Peggy has a change of heart after some blunt words from Joan.
Peggy eventually goes on a date Mathis's brother-in-law, Stevie. Peggy learns from him that Mathis believes that she is "funny" and "fearless." Still, she makes fun of the fact that Mathis shares his name with a famous singer, whose song plays at the end of "The Jet Set" (211). The date goes well, but when Peggy decides to not have sex with Stevie, he calls her "old-fashioned," echoing her ex-boyfriend Mark in "Christmas Comes But Once a Year" (402).
Peggy sticks to her proverbial guns, for now. She does find her passport, so maybe she will finally go to Paris, an ambition that she's mentioned in "Seven Twenty Three" (307) and pursued in Season 5. The question is whether Peggy has been drunk in love or just drunk.
Don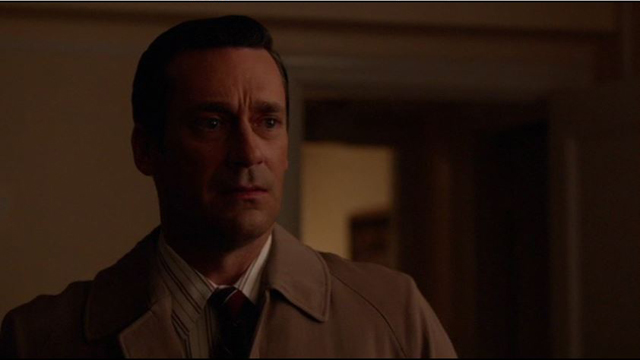 Don revisits his past when he tells a childhood anecdote to his and Roger's dates. He mistakenly believes that he knows the diner waitress. His late-night guest Tricia later spills wine on the same carpet that he and Megan had talked about in "A Little Kiss – Part II" (502). Don then dreams about Rachel Menken, who mentions something about a missed flight. This mention could refer to his plea for her to abscond with him in "Nixon vs Kennedy" (112).
Like in "Babylon" (106), Don uses a business opportunity to contact Rachel. However, he's heartbroken to learn that she's recently died. Don heals his pain with some pleasure in the form of an alley tryst with the previously mentioned waitress. Don makes a visit to Rachel's home, where he sees her widower Tilden, whom Rachel had introduced in "The New Girl" (205), and her sister Barbara, whom Rachel had talked to in "Babylon."
Don is also selling fur coats again; this time he's doing it indirectly. His past as a furrier has been mentioned by Betty and Roger in Seasons 1 and 2, respectively; Roger reflects on this period in "Waldorf Stories" (406). Ted mentions that their fur-coat client has narrowed the candidate pool of campaign models; "There are three women in every man's life," he says. This statement applies to Don, whose past lovers can be categorized into three archetypes.
The Businesswoman are Rachel, comedian manager Bobbie Barret (Season 2), and research psychologist Faye Miller (Season 4). The Bohemian are Megan, freelance artist Midge Daniels (Season 1), and elementary-school teacher Suzanne Farrell (Season 3). The Cheerleader are Betty, Bethany Van Nuys (Season 4), and countless others.
Miscellaneous
Pete is self-deprecating, helpful, and generous when Ken mentions that he might pursue a writing career. Huh?
Meredith has become a competent secretary, but where's "Darkest before the" Dawn?
Where's Cutler?
Is Ted divorced now? Is Harry divorced?
Will "New Business" (709) take place in 1970 like "Severance" apparently does?