Brothers turns 10
18 May 2020

Released on this day 10 years ago, this album became a commercial and critical breakthrough for the rock duo from Akron, Ohio.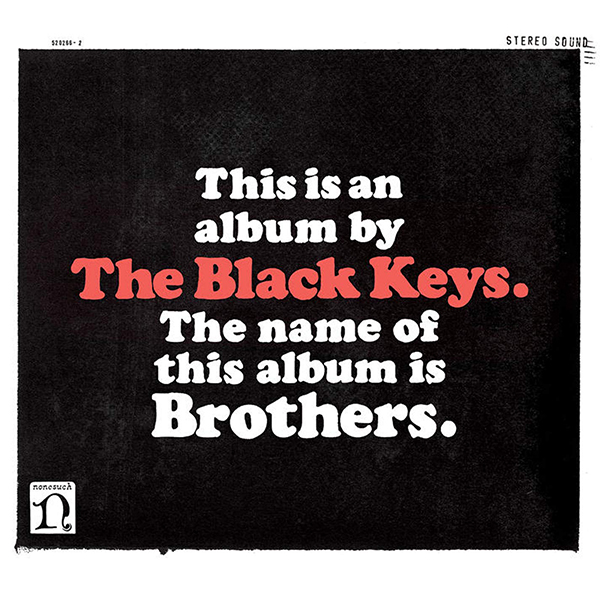 For me, the summer of 2010 is marked by Season Four of Mad Men, the World Cup in South Africa, and Brothers by The Black Keys.
I still think Rubber Factory is slightly better, but this album is definitely their most successful. I had liked their song "Girl is on My Mind" after first hearing it two years prior in the movie Cashback, but I don't remember listening to any of their other music until 2010. I watched the movie and wanted to listen to the song again; I learned about the upcoming Brothers by chance from a YouTube comment.
I remember checking iTunes, finding Brothers, and listening to previews of each song. I was so hooked by "Everlasting Light," the opening track, that I got the album because of it. I bought the Deluxe Version on 1 June 2010, a few days after its release, according to my iTunes purchase history. I developed a liking for other songs on the album. A lot of other people apparently felt the same way, because it was the band's commercial breakthrough.
"Everlasting Light" is still my favorite song. It clearly takes inspiration from "Mambo Sun" by T.Rex, which I also like, but the former is more lively. I like the album's other songs that Dan Auerbach sings in falsetto; they are "The Only One" and "Never Give You Up," which is a cover of a Jerry Butler song. "Next Girl" will forever have a place in my heart because, besides being another favorite, it's the first (of like, three) songs that I've mastered in Rocksmith.
"Tighten Up" by The Black Keys
"Howlin' for You" by The Black Keys
"Next Girl" by The Black Keys
"Next Girl," "Tighten Up," and "Howlin' for You" are the album's singles, and they all have memorable music videos that are directed by the same person, Chris Marrs Piliero. These singles are a bit overplayed, and the other songs don't stand out by themselves, but the album as a whole is a soulful journey that is best listened from start to finish. I did that all through the summer of 2010 and beyond.
I became a fan and eventually bought all of the band's albums as well as Auerbach's first solo album, Keep it Hid. I bought the Yours, Dreamily album of his side band, The Arcs, shortly after it came out. This collection has accompanied me through some uncertain times from 2010-2016, and for that I'm grateful. I've skipped Auerbach's second solo album though, and to be honest, last summer's Let's Rock is probably their most forgettable work.
Brothers had turned them into an arena-filling, festival-headlining musical act, but I think those days are past them, partly because rock hasn't ruled the airwaves and charts in years. The Black Keys seem to be relegated to a level below their peak of popularity. I might not see them on tour in the next few months, but I can always listen to Brothers and reminisce about the summer days of 2010.