Friday Night Lights
14 Aug 2015

For a decade, I've been daydreaming about high-school football practices in the early-morning August heat of a dusty, west Texas town. I have this book, and its movie adaptation, to thank.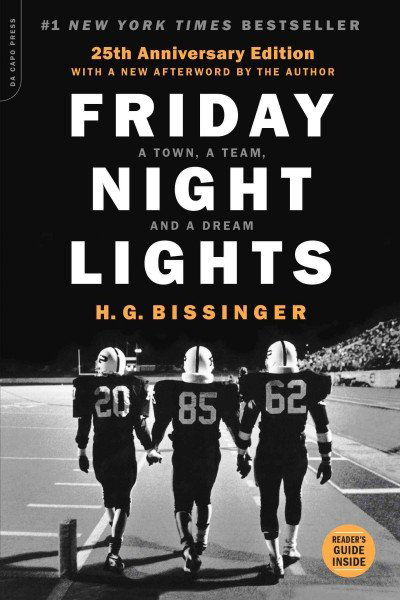 I saw the movie before I read the book. I didn't watch the movie while it was in theatres during the fall of 2004; I bought the DVD during the following summer. Some months later, I bought the paperback from Amazon. The movie and the book are among my favorites, but the former owes its existence to the latter, which is more impressive because of its authenticity and scope.
Friday Night Lights: A Town, A Team, and A Dream is the most famous book by HG (Buzz) Bissinger. It was published 25 years ago and was a New York Times Best Seller. It chronicles the 1988 Permian Panthers high-school football team and their hometown of Odessa, Texas. Specifically, Bissinger follows various players and their head coach as they strive to win a state championship in a football-crazy, and otherwise-dreary, boom-bust oil town.
Friday Night Lights is unique because it examines Odessa itself; the story is one part sports-summary and one part sociology-study. The book and its movie adaptation are not typical, underdog tales. They might have uplifting moments, but for the most part, Bissinger writes about people with real problems, and in some cases, real heartbreaks. The popular, fictional TV series of the same name upholds this tradition.
To celebrate the book's 25th anniversary, Bissinger did an interview with NPR. He also journeyed through Texas to visit several key players on the team. Bissinger wrote about his separate reunions with quarterback Mike Winchell, running back James (Boobie) Miles, tight end Brian Chavez, offensive lineman Jerrod McDougal, linebacker Ivory Christian, and running back Don Billingsley. All them except for McDougal are portrayed in the movie.
Boobie, who's easily the most memorable person of the book and the movie, has led a sad life since the events of that famous 1988 season. In Bissinger's Sports Illustrated article, Boobie acknowledges his poor choices. I think that he has the support network to help turn his life around, for good. I don't want to trivialize his struggle, but his uphill battle—in which a miraculous, last-second triumph isn't guaranteed—is the essence of Friday Night Lights.
One time I showed the movie to a friend and one of my sisters. My sister read the epilogue and learned that the 1989 Permian Panthers went undefeated and won the state championship. She asked me why the movie wasn't about that team; I just told her that the book was about the 1988 team. I should've told her that the story wouldn't be nearly as interesting if everyone and everything involved had been perfect.