1998 World Cup
26 May 2018

I'll follow World Cups until I can't follow them, but the one from 20 years ago will always be my favorite.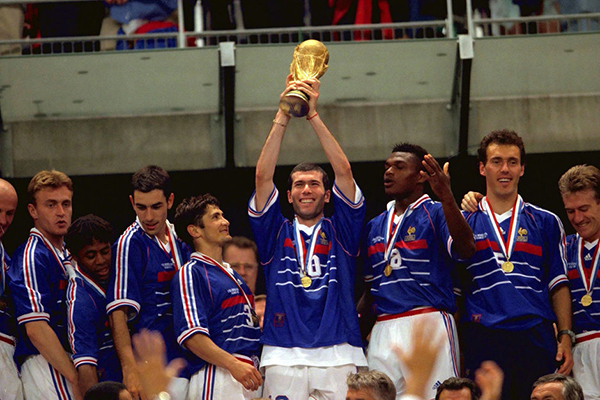 The 2018 World Cup starts in a few weeks and I'm looking forward to it. I've been watching previews on YouTube and some national teams have just announced their provisional 23-man rosters. Even though Russia has probably been awarded with the tournament by unfair means, this World Cup will be captivating in its own ways like the ones before it. I doubt that it'll be as memorable as the 1998 World Cup, however.
As The World Saw It
The Stars
This World Cup is arguably the best of the past 25 years, mainly because of the players. FIFA 18 features 40 Icons in its Football Ultimate Team mode, and 27 of them had been at the tournament. Several more players could justifiably be included; the more notable omissions are probably the result of licensing issues. Ahead of the 2014 World Cup, The Guardian listed the World Cup's top 100 players of all-time, and 24 of them are France '98 alumni.
The 1998 World Cup was a true showcase of established and future superstars. Ronaldo Nazario and Zinedine Zidane, the best players of the two finalists, were at or near their prime. Others like Lothar Matthaeus and Peter Schmeichel were in the twilight of their careers, while Thierry Henry and Michael Owen emerged as wunderkinds. The likes of Gigi Buffon, Samuel Eto'o, and Rio Ferdinand didn't even play because of their inexperience.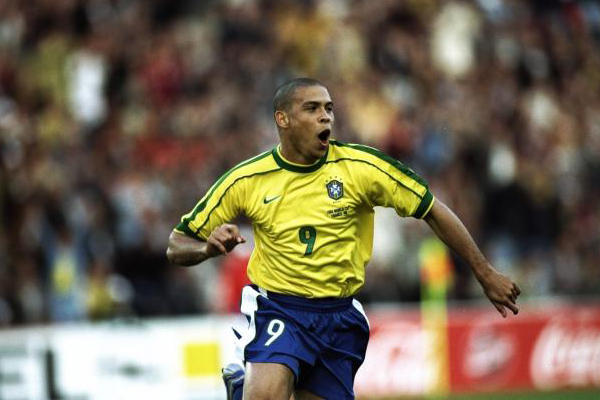 The Countries
France 1998 also established the tournament as a more global event. It was the first to have 32 teams instead of 24, and its two additional groups enabled more representation from countries and regions that weren't soccer powers. Croatia, Jamaica, Japan, and South Africa made their World Cup debuts in France. The latter three struggled, but two of the next three World Cup hosts were Japan (with South Korea) and South Africa.
Croatia, in contrast to the other debutants, was the belle of the ball. Their story included a 3-0 win against Germany, the reigning Euro champions, and a 2-1 loss against France, the eventual World Cup champions, in the knockout stages. Croatia won against the Netherlands in the penultimate game to earn third-place. Instead of a glass slipper, this Cinderella left with a Golden Boat: Croation striker Davor Sukor led all players with 6 goals.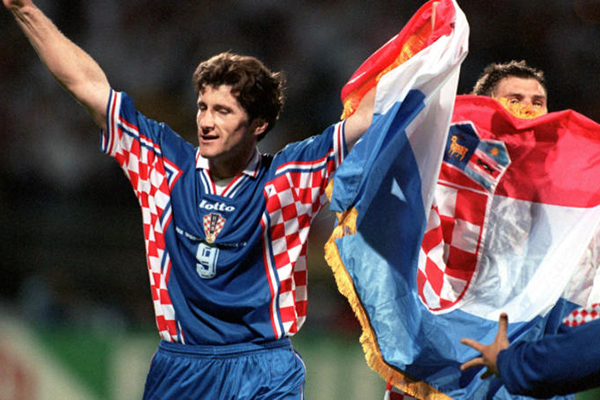 The Goals
Suker and 111 other players scored a total of 171 goals; both totals were new records. The 32-team format did provide eight additional games, and most of the previous tournaments did have more goals per game. Furthermore, the quality of goalkeeping and defending at France '98 was arguably diluted because some of the national-team programs had been nascent or dormant.
I watched highlights of every goal in the tournament, and the goalkeepers and defenders did seem more uncoordinated, physically and tactically, compared to the players of today. Some goalkeepers literally and figuratively couldn't handle air balls, especially in heavy traffic. The 6 own-goals of the 1998 World Cup is apparently still a record; the only comparable tournaments are the 2006 World Cup (4) and the 2014 World Cup (5).
On the other hand, only Brazil 2014 has had more goal-scorers (121) and as many goals as France 1998. The three other 32-team World Cup tournaments have goal deficits of 10 (Korea/Japan 2002), 24 (Germany 2006), and 26 (South Africa 2010). Playing styles change and talent levels vary, but the 1998 World Cup might have the best-ever collection of attacking players despite the presence of some legendary goalkeepers and defenders.
The quality, and not just the quantity, of the goals makes the tournament memorable as well. For reasons previously mentioned, there were some cheap-looking goals in the group stage, but there some great ones too. I'm biased, but I'll always remember David Beckham scoring for England against Colombia. It was one of his signature free-kick goals and marked the beginning of his superstardom on a global stage.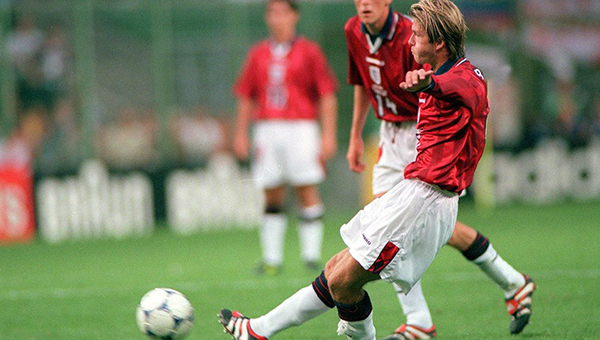 As I Saw It
My memories involve the group stage, the World Cup 98 video game, the (mis)fortunes of Beckham and England, and the final. I watched games after school every weekday for the few weeks that the group stage comprised. I usually ate my lunch that I'd brought to school and hadn't eaten, and sometimes I'd nap instead of watching the entire double-header. The different timezone wasn't an issue otherwise.
World Cup 98
Two friends in my circle had birthdays during the first week of the tournament. One of them had a sleepover party every year, and that year we played World Cup 98 for the Nintendo 64 with a full side of four players. We played as Germany because my friend who was hosting had German heritage, and we edited the names and appearances of some players to match us. I don't remember if we'd won the World Cup, but I do remember enjoying the game.
I rented it to play by myself a few weeks later. I played as England because they were highly rated and because I wanted to be David Beckham. He was a rising star who was playing for Manchester United and he was dating Posh Spice! I changed his in-game hair color from brown to blond and I put him and Michael Owen into the starting lineup. I can't remember winning the World Cup with these Three Lions, but I can't imagine not winning it, either.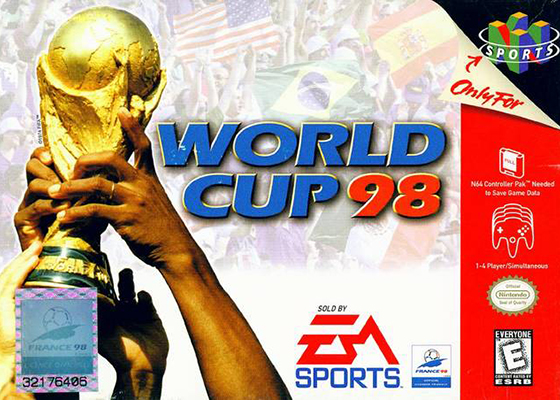 Argentina vs England
I watched as the real Three Lions faced The Albiceleste in the Round of 16. England and Argentina had contentious soccer history (1986 World Cup) and political history (1982 Falklands War) anyway, but an epic battle seemed inevitable because their teams at the 1998 World Cup were good. I was rooting for England, but this game proved to be captivating from start to finish for anybody.
I forgot that Gabriel Batistuta and Alan Shearer scored. The foremost striker and veteran leader of each team converting a penalty kick within the first 10 minutes would be unforgettable if not for other events. Michael Owen's solo-effort goal is one of the most memorable in World Cup history and, though less spectacular, Javier Zanetti's tying goal minutes before halftime is also memorable because it's the result of a clever set-piece play.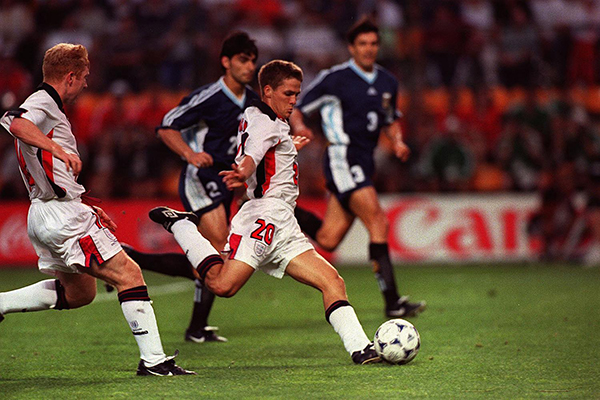 Coincidentally, I had to return my rental copy of World Cup 98 on that particular day. I ran to the store at halftime and returned home some minutes after the second half had started, so I actually missed seeing Beckham's red card, the most infamous event of the game, the tournament, and his career. I was oblivious to the turn of events for quite a while because soccer broadcasts at the time didn't show as many replays during stoppages in play.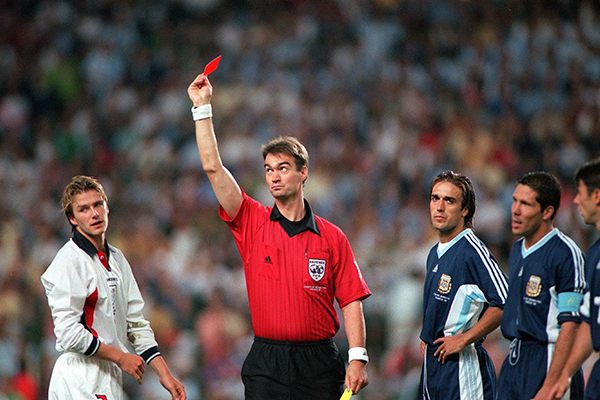 Shearer and company were heroic, in my view. Though undermanned, they withstood their formidable opponents for essentially an entire half plus extra time, when the sudden-death Golden Goal rule was in effect. England's national teams are historically poor in penalty shootouts, but I wouldn't call this team "bottlers." Beckham was foolish, but his vilification in England (like The Daily Mirror's "10 Heroic Lions, One Stupid Boy") was too much.
Brazil vs France
The other elimination games are a blur, but the final is a standout for different reasons. Firstly, Brazil was definitely favored to win against France, so I was curious to see how the latter would cope with the former. Secondly, the Spice Girls were doing a live-TV special in Toronto on the day of the final, to support the North American leg of their tour, and Beckham was there to support my his lady love. He declined to appear on-camera, though.
I switched back and forth between the World Cup final and the Spice Girls special. I saw all of the goals as they happened, thankfully. The everlasting moment in my mind is Zidane jumping to meet a pass from a corner kick and heading the ball with power to score. This goal proved to be the winner in France's 3-0 win, but Zidane scored France's second goal, another header from a corner kick, which was arguably as important.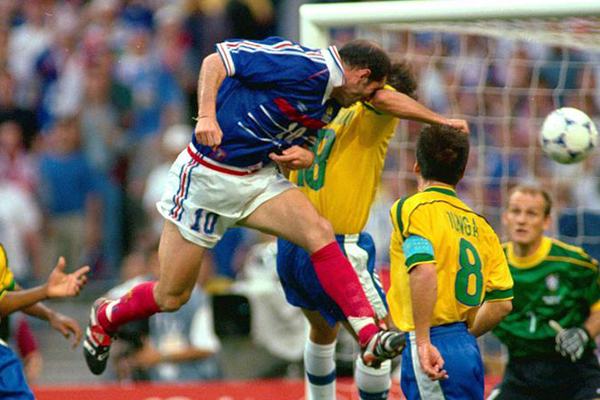 France proved that their success was no fluke when they faced Italy in the Euro 2000 final; Zidane proved that his heading was no fluke when he faced Italy in the 2006 World Cup final. On the other hand, I've recently learned that Ronaldo, the best player in the world at the time, had suffered convulsions on the day of the final. Despite concern and confusion about his state, he was eventually cleared to play.
I wasn't attentive enough to recognize that he was unfit. His teammates and even his opponents recognized that he shouldn't have been playing, though. I don't know if Ronaldo had been pressured by team, sponsor, or FIFA officials or if he had pressured them. I am bothered by the fact that he played at all because, in my opinion, player- and fan-safety is generally lacking in pro sports.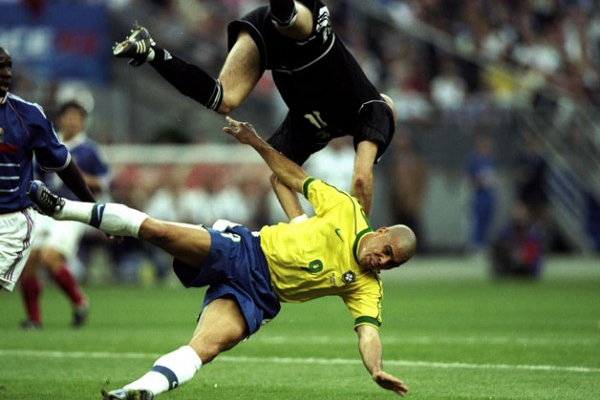 My View
I don't know if a fit replacement for Ronaldo or even a fit Ronaldo himself would've changed the outcome. In hindsight, Brazil was not overwhelming in their 6 games before the final. Only two of them were comfortable wins, and one of them was an upset loss in the group stage. Brazil conceded 7 goals before the final, whereas France only conceded 2 goals by the end.
In any case, a different ending to the 1998 World Cup wouldn't have dramatically changed its lasting impact or my fond appreciation for it.