Birdman
28 Feb 2016

The six-year-old in me roots for Michael Keaton; a VHS copy of Tim Burton's Batman is still at my parents' house. I felt more obligated than excited to watch Birdman, but it won me over within five or so minutes.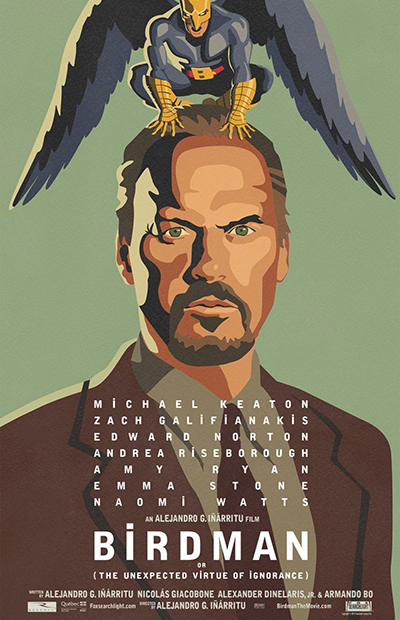 Birdman or (The Unexpected Virtue of Ignorance) is surprising if you expect it to be a solemn drama. There's sadness and seriousness, but it's more of a quirky comedy. The main character is an over-the-hill movie star who's best known for starring as a costumed superhero in a tentpole franchise, decades earlier. Basically, Riggan Thomson is a fictionalized version of Michael Keaton. Birdman is more interesting than it seems on paper.
Riggan is not only the star of a fledgling play on Broadway, he's also the writer, director, and benefactor. His plight is like the one of Vince Chase in the third season of Entourage, but Birdman would be entertaining if it were only about the daily happenings of an upcoming theatrical production. The ensemble cast is good. Emma Stone, Zach Galifianakis, and Edward Norton are surprising to see. Naomi Watts and Andrea Riseborough are cute.
The movie is visually interesting because of its in-close and often-trailing camera work. The low-key jazz drumming suits the NYC setting and I like the classical music that's selectively used. Riggan's apparent telekinetic power and schizophrenic persona are weird, but they add flavor to a blend of Hollywood clichés. Alejandro G Iñnáritu might not repeat with The Revenant at this year's Oscars ceremony, but Birdman is worthy of its Best Picture win.