Mad Men episode 714 – "Person to Person"
25 May 2015

The series finale has hopeful endings for everyone, including Don.
Notes
Goodybe, Meredith
Meredith is her usual ditzy self in her final meeting, but she's also impressively resilient and even wise. Though concerned and hopeful for Don, Meredith is ready to move on with her life and her career. Roger says McCann has realized that he doesn't need two secretaries, but considering Caroline's reactions to Meredith and Caroline's insistence to Roger, I think that Caroline is the main force behind Meredith losing her job.
The Other Coke
Joan and Richard snorting cocaine is surprising for a cable show that's subject to content regulations. Maybe the depiction has been allowed because the substance isn't actually shown, and maybe there hasn't been any buzz because it's the series finale. In my view, overlooking this scene is easier because it involves rich, middle-aged white people using the illicit drug for recreational use.
"A Thing Like That"
Peggy and Pete's final scene together has the right amount of drama. They've been through a lot with each other, not the least of which is making a baby together, but they've been going separate ways for some time. Still, Peggy's response to Pete's prediction about her career is an echo of his response to her admission in "The Hobo Code" (108). Pete says it when Peggy explains that she's nervous about her first copy being presented.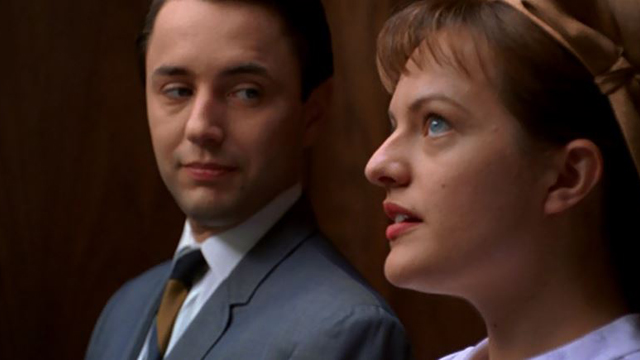 A Street Named Sesame
In this episode and in "The Forecast" (710), Joan's son Kevin watches Sesame Street. Halloween decorations in the McCann office and elsewhere hint that the setting is still October 1970. At this time, Sesame Street would be approaching the first anniversary of its debut on November 10, 1969. I appreciate the inclusion of this TV mainstay during its infancy, if only because I have a reason to show this parody.
Words to Live By?
Don has said and believed his "Move forward" mantra for most of his adult life. He says it to Stephanie, but for the first time on the show, its validity is questioned. Don seems to be stunned by Stephanie's response, if only for a second, and I believe that the exchange sets up Don's ultimate decision.
The Hints are There
In "The Forecast" (710), Roger jokes that he could have Don "killed for drinking anything but a Coke."


In "Time & Life" (711), Jim Hobart whispers "Coca Cola" to Don as though the account is the Holy Grail of advertising, which is arguably true.


In "Lost Horizon" (712), Don walks out of a meeting in which everyone has a boxed lunch and a can of Coke. Interestingly, he takes his lunch with him and leaves his Coke.


In "The Milk and Honey Route" (713), Don gets a proposition to fix a Coke vending machine. He studies it for a while, but whether or not he actually fixes it is unknown.


In "Person to Person" (714), Peggy assures Don that he can return to McCann and adds, "Don't you want to work on Coke?"

Coke is prominently mentioned or displayed in several scenes, including three of the most dramatic scenes of the final episodes.
Person to Person
The episode title obviously refers to the long-distance phone calls that Don makes to the three most important surviving women in his life. The phrase can be heard when telephone operators introduce Don's calls to Betty and Peggy. It reminds me of the scene in Dr Strangelove (1964), in which one of Peter Sellers's characters tries to make an emergency call to one of his other characters. A Coke machine is featured in this scene, too.

Four Weddings and a Funeral
This episode has no weddings and no funeral, but I can imagine weddings in the following months for Roger and Marie, Pete and Trudy (again), Peggy and Stan, and possibly Don and Diana. Before their sudden breakup, I was expecting Joan and Roger to get married. Of course, the funeral would be for Betty.
Fin
Don apparently goes back to McCann and, in the Mad Men universe, is the creative force behind the famous Hilltop commercial for Coca-Cola that would've aired several months after this episode takes place. I've overcome my initial disappointment with the idea of Don ignoring his apparent epiphany and abandoning his fledgling inner-peace by returning to his dissatisfied life.
I think that Don knowingly and willingly does the opposite of "move forward." His lifelong philosophy—which has been exemplified by him becoming Don Draper in the first place—has brought him enviable success, but it hasn't brought him actual happiness. He now realizes this fact and wants to believe that he can, as Leonard says, be "out there eating" instead of being on the proverbial refrigerator shelf.
The Coke commercial is, in my view, a reflection of Don's new outlook on life. That is, the ad is an idealized depiction of people from all walks of life being happy together. I don't think that the epilogue is a trivialization of his struggle in the episode or throughout the series. Creating a landmark work for the most recognizable brand in the world is just the icing on the cake, really, and who says Don can't have his cake and eat it too?