West Side Story (2021)
20 Dec 2021

This movie is faithful to the musical, but its style is more contemporary and its context is more grounded. It might not be better than its cinematic predecessor. Regardless, it's a timeless story about love and fear, hope and hate.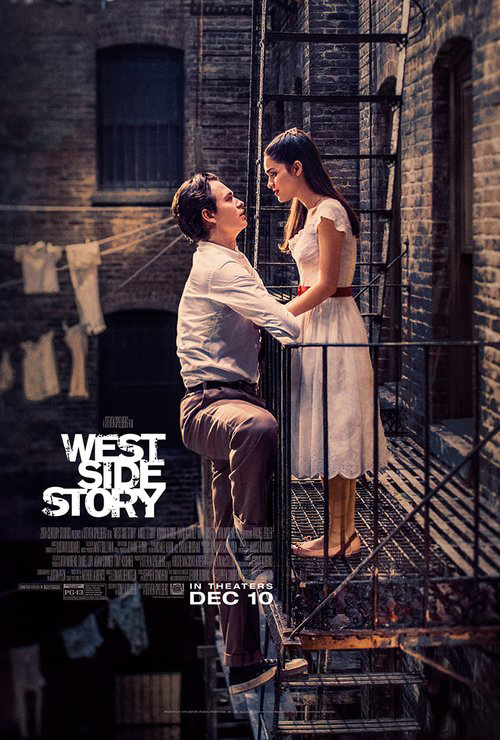 Prelude
I've finally seen West Side Story. This mid-Twentieth-Century adaptation of Romeo and Juliet has been a staple of musical for almost 65 years. Until this weekend, I had only ever seen clips of the 1961 movie. I've watched its performance of "America" countless times. It is iconic. The performances of "I Feel Pretty" and "Maria" are underwhelming, though. They had never compelled me to watch the entire movie.
My only other exposure to West Side Story had been Gap's ad campaign in 2000. It depicts the Jets and the Sharks, the rival gangs of the story, as groups clad in khakis and jeans, respectively. The campaign has three commercials that each pay homage to an iconic musical number. (They are "America," "Cool, and "Dance at the Gym (Mambo).") Representatives of the creators, including choreographer-director Jerome Robbins, had approved them.
Seven months ago, I saw the first trailer for Steven Spielberg's movie adaptation. I was enthralled with the cinematography, camera angles, and musical buildup. To be honest, I was less enthralled with the trailer that followed a couple of months ago, but I was still intrigued. I knew that I would watch it, sooner or later. I considered attending a one-time showing of the 1961 movie at a local art-house theater.
I decided against it. Despite my initial enthrallment, I was wary that the 2021 version would be a letdown if I'd already seen the acclaimed 1961 version. I preferred to experience Spielberg's interpretation with a somewhat fresh mind. I didn't want expectations to hinder my enjoyment, even though seeing this movie hadn't been a priority. I went to a matinee showing on a pure whim.
Review
On the whole, I've enjoyed the movie. Comparisons to Robert Wise and Jerome Robbins's version are inevitable. I can state that Spielberg's version is more authentic and realistic. The Hispanic characters speak Spanish at times, and more locations are real instead of closed sets. The on-screen cast does all of their singing, although it is pre-recorded. I've been listening to this movie's renditions of "Maria" and "Cool" all week-long.
Revisions
Not having seen the 60-year-old movie, the more subtle differences had been beyond me. A first-time viewer won't know that aspects of certain scenes and characters have changed. In some cases, they are truer to the original musical. The most notable change is Rita Moreno playing Valentina, a shop-owning widow. In the 1961 movie, her character is Doc, a shop-owning widower. Casting a standout performer from that movie adds gravitas to this one.
Rita plays—and is—an old Puerto Rican woman whose late husband had been non-Hispanic. Her character is a mother figure (and she is an executive producer) who tries to guide these youngbloods. Likewise, the Anybodys character is a transgender man instead of a tomboy. His gender identity is a plausible reason for the Jets to keep him at arms-length, despite his dedication to the group. These gender reversals make sense, and I support them.
I've once heard an actor say that fear and love are the basis of all emotions. They are certainly the foundation of West Side Story. The former manifests as prejudice that leads to cyclical and fateful violence. The Jets, especially their leader Riff, are the more belligerent gang. But the Sharks have prejudice, too. Their leader Bernardo forbids Maria from consorting with Tony because Tony is a "gringo."
Bernardo later uses another term to Tony's ethnicity/race. This one is more offensive. The slur isn't subtle, and its usage is shocking. I appreciate the more balanced portrayal of the conflict, though. Being a recent immigrant and subject to regular prejudice doesn't mean that a person is without flaws. In this movie, the usage of language reflects characters' separation from each other. It also separates them from viewers: there are no subtitles.
Positives
The casting is good. The main cast are all believable as characters in their early to mid-20s. Except for Rachel Zegler, aged 20, they all had been in their late 20s during production. The main actors on the Sharks side have Hispanic heritage and (seem to) speak fluent Spanish. There's no brownface here. As I've mentioned, every cast member sings. In the 1961 movie, both leads had someone else do their character's singing.
The visuals are great. The low- and wide-angle shots give a sense of grandeur. It's appropriate for a love story in New York, albeit in a run-down part of it. Certain shots have atypical views that make them memorable. An example is the overhead shot of the gangs' shadows as they approach for their showdown. The dance at the gym stands out as well. The contrasting wardrobe palettes is striking.
Ansel Elgort, who plays Tony, and Rachel Zegler, who plays Maria, have good chemistry. That's important in a boy-meets-girl story like this one. From a visual perspective, they make an interesting pair. Their differences in height and complexion are noteworthy. These differences might be superficial, but they reflect their characters' different backgrounds. In the 1961 movie, Richard Beymer and Natalie Wood look like siblings.
Negatives
Despite Elgort and Zegler's chemistry, their duets are the least interesting musical numbers. The choreography has always been a selling point, but Tony and Maria don't dance together. Zegler and Ariana Debose can't match the charisma of Natalie Wood and Rita Moreno, either. I appreciate the grounded direction of the musical numbers. They might seem flat, or even disappointing, to people who've seen the 1961 movie, however.
The implication that the Jets attempt to gang-rape Anita is out of place. The notion of something like that (almost) happening is too dark for this movie's tone. Anita feeling angry and humiliated is important to the plot, of course. If the Jets had intended to gang-rape Anita, then everybody acts like nothing serious has happened. Valentina intervenes and scolds them, but she doesn't do anything else.
Denouement
Spielberg's West Side Story is a critical success, but it's a commercial failure so far. The pandemic is, no doubt, the main reason for its delayed release and tepid box-office sales. Musical remakes don't have the mass appeal of superhero tentpoles, but West Side Story would be a summertime hit in any other year. I expect it to have more success when it's available on Disney+ streaming service, although it might not make a profit anyway.
Because of the recent passing of Stephen Sondheim, and because I appreciate thoughtful writing, I've been paying attention to his craftsmanship. The lyrics are simple, and dated in some cases, but they work. Writing in verse and rhyming couplets, while trying to memorably convey the emotions of characters, requires skill. I love the simplicity and expressiveness of lyrics like "Say it loud and there's music playing / Say it soft and it's almost like praying."
I almost didn't watch this movie when I decided to stop by a theater. I considered The French Dispatch and Dune. I was satisfied with my choice, though, and the other dozen people at that showing were probably satisfied, too. While I was watching, I thought about the enduring achievement of Sondheim and of William Shakespeare. Of course, the achievement of Leonard Bernstein and Jerome Robbins were on display as well.
Thanks to Steven Spielberg, I'm now a fan of West Side Story.