Nike – "Write the Future"
4 Jul 2020

Big-budget visuals, notable cameos, and over-the-top scenarios make this World Cup commercial a classic.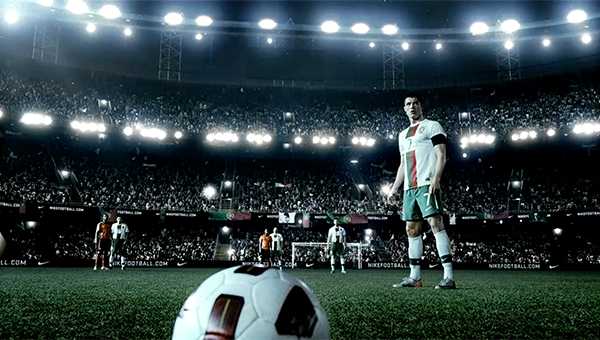 This month is the 10th anniversary of the World Cup in South Africa, the best World Cup tournament of this millennium and possibly the best of my lifetime; only the World Cup in France is comparable. The 2010 iteration had all the ingredients for an unforgettable month of soccer. It had a tense final match, a vaunted championship team, an exotic host country, two superstar forwards, and some unforgettable events, both on and off the field.
Even this commercial that's most associated with the 2010 World Cup is memorable. Its premise is that the World Cup has the highest of stakes: making (or not making) clutch plays has profound effects on players, their countries, and the world. The commercial features global superstars Wayne Rooney (England), Ronaldinho (Brazil), and Cristiano Ronaldo (Portugal) exercising their influence on games and on people.
Rooney and Ronaldinho play with or against a few other stars, and Rooney's sequence has off-field cameos by stars from the US and Spain. Otherwise, most of the on-field players are extras. These main sequences also have cameos by non-soccer celebrities. Rooney schools Roger Federer in a game of ping pong, Ronaldinho inspires Kobe Bryant to mimic his move in celebration, and Ronaldo gets a biopic starring Gael García Bernal.
The commercial actually starts with a sequence involving forward Didier Drogba (Ivory Coast) and defender Fabio Cannavaro (Italy). Both players are legends in their own right, but they aren't as marketable as the aforementioned players. Drogba and Cannavaro are included presumably because they're the most notable players from the host continent and the defending champion, respectively.
Overall, the depicted futures range from plausible (Ronaldinho) to ridiculous (Rooney) and somewhere in between (Ronaldo). Although he hadn't won a Ballon d'Or yet, Ronaldo had been (and is still) one of the two biggest superstars in soccer, along with Lionel Messi, so his sequence is the climactic one. It includes custom-made clips of him being depicted on The Simpsons and by García Bernal, but these clips are omitted in the following version.
This commercial was part of a campaign overseen by Wieden + Kennedy London. WK has a long-standing relationship with Nike. Four years prior, WK London was responsible for an ad that depicted Rooney painted with the Cross of Saint George, and the depiction led to alleged uproar. This commercial includes that memorable ad and even spoofs it with a French version that depicts Franck Ribéry, one of Rooney's opponents in the commercial.
Amazingly, this commercial is directed by Alejandro González Iñárritu, four years before his breakthrough with Birdman. The Mill is responsible for the special effects; this company has been involved with a few of my other favorite commercials. WK reportedly won Film Grand Prix at the 2011 Cannes Lions festival. The song that plays throughout the commercial is "Hocus Pocus" by the band Focus.
This commercial was released about a month before the World Cup. It became somewhat diminished because the featured players and/or their teams had forgettable performances. None of the players scored more than 1 goal, and none of their teams advanced past the quarterfinals stage. Ronaldinho and Theo Walcott, Rooney's teammate in the commercial, weren't even selected by their national teams for the tournament.
Ironically, the players who make brief, off-field cameos in this commercial can brag the most. Landon Donovan scored 3 goals for the US, and Andrés Iniesta, Cesc Fabregas, and Gerard Piqué won the World Cup with Spain, which was outfitted by Adidas. In spite of these actual outcomes, the fictional outcomes in this commercial are spectacular enough to be entertaining yet (mostly) plausible enough to be imaginable.